Add-A-Zone
Part #: RCO 860009
Two valves on only one wire: Let Add-A-Zone solve your irrigation problems!
Work around broken zone wires. Add a new zone without adding new wiring. Add-A-Zone is the proven way to independently control two zone valves with only one pair of field wires.
Unlike other "switching" units, the Add-A-Zone behaves just like the valves are fully independent. A patented unit installed at the controller allows use of two separate zones, while sending the signal through only one field wire.
Click here to see Brochure.
Click here to watch Installation Video.
1 Year Warranty
Splitter
Part #: RCO 860011
Operate multiple valves from a single pair of control wires on a single controller station.
You simply program the controller zone for the total amount of run time required by all valves connected to the Splitter unit. The Splitter will divide the programmed time evenly among each zone.
The Splitter will save you time and labor trenching in additional wiring or in locating faults. The waterproof unit can be directly buried anywhere that is convenient. Plus, no electrical modifications to the controller are required.
1 Year Warranty
Models: 4 Zone Unit RCO860011
Click here to see Brochure.
Chatter Box Valve Locator
Part #: RCO 860007
Makes Locating Buried Valves Fast and Easy
Now there's a fast and easy way to locate lost valves, the Chatterbox.
It fits in the palm of your hand and can be quickly connected to any 24-volt irrigation controller to help you find buried valves fast.
Once connected to the specific zone wire at the irrigation controller, the unit will cause the solenoid on the wire to "chatter". The vibrations and sound will lead you right to the valve's location.
Simple enough to successfully locate valves in minutes.

Inexpensive enough for every service technician to own.

No need to buy or rent expensive tracking equipment.

Pinpoint valve locations instead of hunting aimlessly

1 Year Warranty
Uni-Key
Part #: UNIKEY
The All-in-One Universal Controller Key Set
They're all here, keys to fit every major brand of irrigation controller, both current and obsolete models. There's no more hunting down lost keys. Stride up to any controller, open the door, and complete your work.
Perfect for those doing service and maintenance on irrigation systems.
Each set includes 18 alpha-coded keys and labeled key fob.
1 Year Warranty
Part Number: Uni-Key
Dr. O-Ring
Part #: RCO 810000
The Ultimate O-Ring Replacement Kit for Irrigation
Stop looking for lost o-rings in the mud during irrigation repairs. Every o-ring you'll ever need is included in this handy kit. Included are over 200 replacements in 18 different sizes, organized in a handy carrying case with sizing chart.
This kit quickly pays for itself in reduced trips back to the supplier and time spent searching for lost o-rings.
Sizing chart includes part numbers for individual o-rings for easy replenishment.
1 Year Warranty
Paging Dr. O-Ring!
Item Number: RCO810000
Genuine R Co. Repair Kits
These convenient all-in-one repair kits contain all of the parts you will need for a typical repair, so there is nothing to forget. Each comes in a labeled poly display bag for easy inventory control. To see a list of all kits, click here.
Polar Parka
Unsurpassed Backflow Preventer Protection
A backflow device is an important investment that needs to be protected.
Up until now, there was no effective way to protect these devices from the elements and from tampering. Attempts to protect backflow preventers from freeze damage using burlap, tape or plastic create an environmental eyesore and fail to adequately protect the device.
Presenting Polar Parka, a four-season insulated backflow cover that protects your backflow preventer year-round.
Winter: provides protection in cold-weather conditions.
Spring: sudden temperature changes can require "re-winterization" of many systems. Polar Parka protects the device.
Summer: protects device from damaging UV rays.
Features of all Polar Parka covers:
Rugged 18 oz fabric, vinyl coated for water resistance
Double-stitched construction
Polar insulation, polyester fiber
Waterproof / fire resistant
1 Year Warranty
Always measure your device or contact The Source for exact sizing information. Many model dimensions and styles have changed through the years, so exact measurements will be most precise.
Click here to see Brochure.
Genuine R Co. Replacement Solenoids
Check out the industry's most complete range of replacement solenoids. Each model is designed with low in-rush currents for compatibility with modern controllers.
Plus you can outfit in-stock valves for specialty applications with 12-volt or 110 volt coils.
Each 24 volt and 12 volt kit includes waterproof connectors.
To see a list of all solenoids, click here.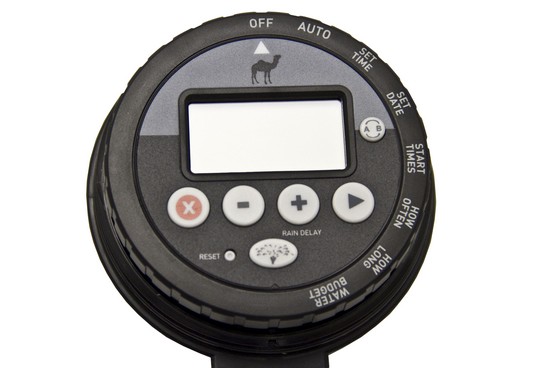 Yard Camel
Part #: YC-100
Portable Irrigation System
Introducing the Yard Camel, the Green Industry's premier portable temporary irrigation system. Don't spend your time worrying about your new sod or seed, let the Yard Camel take care of your watering needs! Perfect for anyone establishing new lawns. No power required, only a water source Units can be easily "daisy chained" together for large areas Can be used to water gardens or for dust control on roads or horse arenas.
Great for Contractors:
Eliminate stress on newly sodded lawns
Quickly establish seeded lawns
Perfect for watering in new landscapes
Labor savings from reduced call backs
Great for B & B holding areas on commercial jobs
Reusable for many seasons to come
Great for Homeowners:
Establishes your newly seeded or sodded lawn
Protects your landscape investment
Keeps your lawn watered and growing while you're away
Reusable during hot & dry months
Automatic watering, economical price
1 Year Warranty
Yard Camel is a portable, multiple zone, timed watering system. Complete with controller, three valves and six zinc impact heads on zinc spikes.
Compact and portable. Flexible and expandable to many applications. Programmable, automated system runs for days or weeks unattended. Requires no power source. Adapts to any water supply. High tech control, low tech installation. Battery operated controller needs no outside power source.
Standard hose connections from valves to impact heads (hoses not included). Each impact head covers up to an 85' diameter and is adjustable from 0° to 360°. PSI: 30 to 80 psi. Flow Range: 4gpm to 18gpm.
Battery Zone
Part #: B2-100
No power? No problem! Battery Zone easily upgrades a solenoid valve to automatic control
Installing new irrigation or adding a valve in a place where power isn't easily accessed? Battery Zone is the easy solution that provides economical battery-powered control of standard irrigation solenoid valves. No need to run new power wires through the landscape. The Battery-Zone is also ideal for retrofitting manual systems to automatic operation, or working around existing bad wiring.
The Battery Zone installs quickly: just thread off the existing solenoid, and then thread on the solenoid from the Battery Zone. Adapters are provided to fit popular brands. The Battery Zone uses two standard 9-volt alkaline batteries to power the controller's display and to actuate automatic and manual cycles. In a typical application, the battery will last for at least one full irrigation season. Use of off-the-shelf 9-volt lithium batteries is optional and would extend the normal battery life to multiple seasons.
Features & Benefits
Fully submersible and waterproof, ideal for installation in humid valve boxes. Meets IP68.
A protective rubber cap prevents debris from accumulating on the face and buttons
Includes 9 volt latching solenoid compatible with popular brands of valves including Irritrol ®, Lawn Genie ®, Hardie ® Toro ®, K-Rain ®, Nelson ®, Orbit ®, and Rain Bird ®. For use with other brands of valves, you'll need to purchase a 9-volt DC latching solenoid from that brand which can then be connected to the Battery Zone controller. The Battery Zone only operates 9 volt dc latching solenoids, do not attempt to connect to standard 24 volt ac solenoids.
Simple programming: choose days of the week, enter start time and zone run time. Up to 2 starts per day.
Drip irrigation compatible: run time from 1 to 360 minutes.
Easy manual operation.
Rain off / system off mode.
Wire leads can be extended for installation up to 100' from valve.
Low battery alert. Battery will last through an entire season; install a new battery annually.
Rain sensor compatible (micro-switch based, hardwire sensors).
Uses 2 9-volt batteries (purchase separately).
1 Year Warranty
Click here to see Brochure.
Click here to see the Owners Manual.